Women with a hormone imbalance may experience decreased metabolism, fertility problems, thyroid conditions, fatigue, and irritability.
1
A comprehensive at-home test provides women with their levels to empower a change in quality of life
Women's Health Test
$149
We accept HSA/FSA payments.
DETAILS
---
What does this test measure?
Why is this test important?
Who is this test for?
Measures 5 key biomarkers important for women's health.
LH: Measures the level of luteinizing hormone, an important hormone for the reproductive system.
Estradiol: Measures the level of estradiol, which is a key hormone in the development and maintenance of the female reproductive system.
SHBG: Measures the level of Sex Hormone Binding Globulin, a protein made by the liver that regulates sex hormones in both men and women.
Prolactin: Measures the level of prolactin in the blood, which is an important hormone for reproductive health.
TSH: Measures the level of Thyroid Stimulating Hormone in your blood, which could indicate an overactive or underactive thyroid. The thyroid gland is important for metabolic rate, heart and digestive function, muscle control, mood and bone health.
Collection method: Finger prick
1 TSH (Thyroid-Stimulating Hormone) Levels: Symptoms. (n.d.). Cleveland Clinic. https://my.clevelandclinic.org/health/articles/23524-thyroid-stimulating-hormone-tsh-levels
This test provides valuable information about women's health and wellness and enables you to share your results with your physician to address any imbalances that may be impacting how you feel.
Women 18+ who want to learn about important biomarkers that provide insight to their reproductive and overall health.
---
Take Control of Your Health
At home lab testing makes it easy for you to monitor your health whenever you want, in the privacy of your own home, without compromising accuracy or quality.
Private & Secure
Your privacy is our priority. We use discreet packaging so you can be confident ordering any test. The transmission and storage of data is HIPAA compliant.
CLIA/CAP Accredited Laboratories
To ensure quality, analysis is performed in laboratories that are certified by CLIA (Clinical Laboratory Improvement Amendments of 1988) and accredited by the College of American Pathologists (CAP).
Physician Reviewed Results
All test results are reviewed by an independent, board-certified physician licensed in your state before the results are shared with you.
---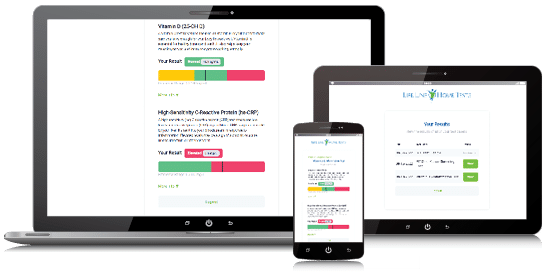 Private

Results are shared directly with you to ensure your privacy. Access your results securely from any device.

Easy to Understand

Results are easy to understand and additional info about each test is included. Share the results with your physician if you have follow-up questions.

Accurate

Analysis is performed in laboratories that are certified by CLIA and accredited by the CAP. All test results are reviewed by an independent, board-certified physician licensed in your state before the results are shared with you.

Order your kit
Find the test that's right for you and order it online with our secure checkout. After you receive your kit at home, follow the directions in the box to register it.

Collect your sample
Review the step-by-step directions included in your kit and collect your sample. Mail it to our CLIA/CAP Accredited Laboratories with the included prepaid shipping return mailer.

Receive accurate & actionable results
Within 3-5 days of the laboratory receiving your sample, you'll receive easy-to-understand, physician-reviewed results. Access your results online and share them with your physician.
---
General Questions
How do these tests compare to regular in-clinic tests?
All tests are validated by our clinical laboratory affiliates. Results are comparable to samples collected in a physician's office or clinical laboratory.
Do you accept FSA or HSA payment cards?
We currently do accept FSA and HSA payment cards. To use your card, check out like you would normally with any other payment method. Please note: there is no guarantee that your FSA or HSA card will be accepted as these types of cards tend to have varying rules and regulations attached. If you have trouble using your FSA or HSA card when you check out, please reach out to your card's bank or administrator.
Do you accept health insurance?
No, we do not accept insurance.
Is shipping discreet?
Yes, the packaging is discreet both to you after you purchase a kit and to the lab once you have collected your sample.
Which states can tests be shipped to?
We ship to all of the U.S., except the state of New York. For regulatory reasons, our tests are not available in NY.
---
Life Line Home Tests is not intended to diagnose or treat any disease or medical condition and is not a substitute for professional medical advice or clinically guided treatment. To learn more,
click here
.